Last Updated on July 17, 2021
Om Namah Sivaya
Dear Friends,
Due to the worldwide outbreak of COVID-19, the Sivananda Ashram Yoga Retreat Bahamas has remained closed to guests since March 2020.
Our tentative reopening date is November 1st, 2021
You are welcome to book here for November 1st onwards, but please ensure all travel plans and air tickets are flexible in case of unavoidable postponement due to travel advisories and/or local hospitality guidelines.
We have introduced additional practices and government guidelines for sanitation, social interactions, and workplace protocols to keep our guests and staff safe and prevent the spread of COVID-19.
We are dedicated to sharing the teachings of Yoga and Vedanta through our Online Courses, Satsangs and Webinars. We invite you to please visit our Online Program page for the latest schedule. We are continually adding online programs, courses, and guest speakers to our calendar. We offer Free Events and live streams of our morning and evening satsangs through our Live Satsangs page, so please join us if you have not done so already.
If you are interested in taking our Yoga Teacher Training Course, we are now offering the full 200 hour TTC online. Please visit the Online TTC page for more information.
You can stay connected with us on your favorite media platforms. Join us on our online Facebook and Instagram communities, subscribe to our newsletter, and subscribe to our YouTube channel.
If you would like to discuss scheduling a reservation, rescheduling or cancelling an existing reservation and all other inquiries please email us at nassau@sivananda.org
Flexible Cancellation Policy
Due to the evolving global developments in relation to coronavirus (COVID-19), we have adapted our cancellation + payment policy to accommodate those who are unable to join us for matters beyond their or our control.
If you would like to discuss rescheduling without charge or cancelling an existing reservation please email nassau@sivananda.org
We will refund any payment made towards the reservation less the $300 deposit however, you're welcome and encouraged to forgo the refund for a full credit note if you're able to.
The $300 deposit will be transferred into a credit note that is valid for 2 years*.
When making your new booking you will need to pay a new deposit but the credit can be applied to the final balance.
If you are cancelling more than 30 days in advance you are welcome to opt for a $50 + 12% tax processing fee and receive a $244 refund in place of the full $300 credit note.
*Credit notes are non-refundable but are now transferable. If you know someone who would benefit from our online programs or a future trip, we are happy to transfer your existing credit into their name.
Credit notes can be applied toward another stay at the ashram, toward tuition for a course or applied to any of our online offerings (other than online certified training programs).
Please note that the credit note cannot be used for treatments at our Well Being Center or at the Boutique.
Please contact us if you'd like to transfer your credit into another person's name or if you've been unable to use your credit note in the allotted time due to travel restrictions. In some cases, we will be happy to extend the credit note by an additional 12+ months.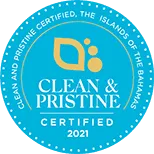 Sivananda Ashram Yoga Retreat Bahamas has received the Bahamas Ministry of Tourism's "Clean and Pristine" Health and Safety Certification
In preparation for our re-opening, we have implemented all safety measures required by the Bahamian Government for Sanitation and Hygiene. 'Clean & Pristine' is a certification program introduced by the Bahamian government and implemented across hotels, restaurants and other tourism touchpoints. The program outlines extensive health and safety protocols that will be enforced throughout The Bahamas to mitigate risks for visitors and residents alike during this time of Covid-19. Some of the measures we have implemented that will protect our guests and staff are outlined below:
PERSONAL PROTECTIVE EQUIPMENT
Face masks/coverings are required for all guests and staff when moving around the property.
TEMPERATURE CHECKS
Every staff member will have his or her temperature checked at the beginning of each shift to ensure no one with symptoms comes on property. Guests may be required to have their temperature checked at various times as well.  Any person who has a temperature of over 100 degrees will be required to self-quarantine.
SOCIAL DISTANCING
Social distancing measures to be followed at all times including dining, satsang, yoga classes, the beach. Seating will be spaced safely apart according to recommended guidelines. Staff will refrain from handshakes, hugs, or physical contact with guests.
SANITIZATION
We've stepped up routine cleaning, paying close attention to high-touch surfaces in common areas. Guest rooms will be thoroughly cleaned and disinfected after each checkout. Hand sanitizing stations are available in visible traffic areas throughout the ashram.
TRAINING
All staff will receive training regarding symptoms, personal protective equipment, physical distancing, and sanitization standards.
DINING
Kitchen will be deep-cleaned after each shift. Regular cleaning and sanitation protocols in place. Guests are required to observe social distancing while dining.
RETAIL/FRONT DESK
Guest payments, check-in and checkout are done online eliminating the need for exchange upon arrival.

Coming soon