Last Updated on October 5, 2021
We are happy to announce that our reopening date is December 14th, 2021. To make a reservation, please visit our online bookings page. If you are a voucher holder, please call 1-866-559-5167 or email nassau@sivananda.org to make a reservation.
Covid Policies
Here at the Sivananda Ashram Yoga Retreat, Bahamas, we are busily preparing for reopening and are eager to welcome back our guests, karma yogis, and students.
One of the most essential aspects of reopening is the health and safety of our guests and staff with regard to COVID-19. After careful consideration of each of the elements of Ashram life, we have prepared our COVID health and safety policies in accordance with CDC guidelines and the Clean and Pristine Health and Safety Protocol of the Government of The Bahamas. These policies will be reviewed regularly and updated as the season progresses.
Please take the time to review each of the sections below as you prepare for your visit.
If you have any questions or concerns, please contact us:
1-866-559-5167 (toll-free from the US & Canada)
1-416-479-0199 (from all other countries)
1-242-363-2902 (local Bahamian number)
We look forward to seeing you soon!
Bahamas Travel Health Visa
Every person traveling to The Bahamas must apply for the Bahamas Travel Health Visa no more than five (5) days prior to their arrival date in The Bahamas. This document is to be presented to airline agents/pilots and boat captains/operators before boarding takes place.
The Bahamas Travel Health Visa may take up to 48 hours to process and the rapid antigen or RT-PCR test must be taken within 5 days prior to entry to the Bahamas – please plan accordingly.
You can see what is required for the Travel Health Visa in the table below. Please refer to travel.gov.bs or www.bahamas.com/travelupdates for more information and to submit an application.
In addition, please check your chosen airline's travel requirements prior to travel, as well as guidelines from your country's embassy or consulate.
Vaccination
Our mission is to share the teachings of Yoga and Vedanta with everyone who wishes to learn. It is also critical that we take the necessary measures to uphold the health and safety of all our visitors, staff, and the people of The Bahamas. Due to the nature of the Ashram's activities and the communal way of living, at this time we are accepting only those guests (vacationers, TTC & ATTC students, and karma yogis) who are fully vaccinated. We currently do not accept non-vaccinated guests. We understand that some of our valued community members will not be able to visit in-person for this reason, and we apologize for any inconvenience. We continue to offer many online classes and daily livestreams of our satsangs for those who wish to participate virtually.
Guests (vacationers, TTC & ATTC students, and karma yogis) must show proof of full vaccination. A person is considered fully vaccinated 2 weeks after the 2nd dose of a 2-dose vaccine or 2 weeks after a 1-dose vaccine (Johnson & Johnson).
All guests are required to show a negative COVID test result taken within 72 hours prior to arrival. This can be the same test as for the Bahamas Travel Health Visa or airline.
Health Insurance
The Bahamas Travel Health Visa includes COVID-19 insurance. You can see the details of coverage linked below (from the travel.gov.bs website)
COVID-19 coverage for visitors from the US and Canada
COVID-19 coverage for visitors from other countries
Ashram visitors should additionally have travel health insurance that includes coverage in The Bahamas.
Arrival
Please contact us to reschedule your stay if you experience any symptoms of illness, including fever, sore throat, difficulty breathing or shortness of breath, cough, and/or taste disorders.
Your negative COVID test result from a Rapid Antigen or RT-PCR test taken within 72 hours prior to arrival should be scanned and emailed to the Ashram prior to arrival and presented upon arrival. This can be the same test as the one used to obtain the Bahamas Travel Health Visa.
Guests will complete a health survey before arrival and again at check-in. Every arriving guest will have his or her temperature checked upon arrival to ensure no one with symptoms comes on property.
Payment is to be completed 14 days prior to arrival or at the time of registration if making the booking less than 14 days prior to travel.
To minimize contact, only virtual payment by credit card will be accepted – no cash or hand-to-hand card exchanges.
Departure
People traveling to or through the US and Canada must take a COVID test within 72 hours of departure. Airlines require proof of a negative COVID test in order to board the flight.
Starting in early November, the USA will require non-US citizens to provide proof of full vaccination in order to board a flight into the USA. See the US Embassy website for more information.
Ashram guests will be able to take the required pre-departure COVID test at the Ashram. Testing will be arranged by us and will be onsite. The cost of the pre-departure COVID test is in addition to the cost of your stay. The cost ranges from $55-$200 depending on the type of test and the availability of the lab. This is current pricing and the testing centers may change their pricing.
What to Bring
Face Masks
Guests are required to wear a face mask and follow physical distancing protocols. The government of The Bahamas mandates these measures. Face masks are not required while on the beach, during the yoga class, or while in one's own room. Masks are required while getting to and from these locations.
Please bring enough face masks for your stay.
Sanitizer
There are many sanitizing stations located around the Ashram grounds. In addition, visitors are encouraged to bring their own personal hand sanitizer.
Yoga Mat & Cushions
We ask that all guests (vacationers, students, and karma yogis) bring their own yoga mats, meditation cushions, and preferred yoga props (blocks, etc.). We will not have these available for rental or use. A small number will be available for purchase in the Boutique.
Water Bottle & Travel Mug
Please bring your own water bottle and/or travel mug for water and tea throughout your stay. A small number of bottles will be available for purchase in the Boutique.
Copy of Vaccine Card
International visitors will be required to show proof of vaccination prior to boarding flights to the USA at the end of their stay. All Ashram guests will be required to show proof of vaccination upon arrival.
Yoga Classes
Yoga classes will be held on our outdoor platforms.
All guests and staff must maintain a distance of at least 6 feet (2 meters) from others. Spaces are pre-marked.
Students and teachers are required to disinfect their hands when entering or exiting the yoga platform and to wear their masks until they are at their places.
Satsangs, Classes, and Workshops
Sanitizer is placed at the entrances of all of the classrooms and platforms. To reduce sharing of equipment, we ask all participants to bring their yoga mat and/or meditation cushion to satsangs, classes, and workshops to use as a seat. Spaces to sit are pre-marked and spaced at least 6 feet apart.
As often as the weather permits, the activities will take place outdoors. Several times a week, there will be meditative walks instead of sitting meditations (weather permitting).
Masks are required to be worn throughout the satsangs, workshops, and lecture-based classes.
Meals
All meals will be served by the Ashram staff. Tables will be spaced for physical distancing and seats will be pre-marked. People who travel together may sit closer together.
The dining area and kitchen are cleaned and sanitized frequently, including tables, chairs and other high-touch surfaces.
Face masks are required to be worn by all guests and staff in the dining area, except when eating or drinking at your table.
Reporting Symptoms & COVID Protocol
The safety of our guests and staff is our highest priority. To this end, we require that all guests and staff take an on-site COVID-19 rapid antigen test twice weekly. Guests may be required to have their temperature checked with a thermal scanner at various times throughout their stay.
We ask guests and staff members to self-screen daily. Should anyone exhibit any illness symptoms consistent with COVID-19 (fever, cough, shortness of breath, loss of taste or smell, difficulty breathing), they will be required to remain in their room and have someone contact our reception desk immediately. In the interests of everyone's safety and peace of mind, we ask guests not to attend activities while coughing or sneezing.
The Bahamas Travel Health Visa and accompanying medical insurance that was purchased prior to travel will cover accommodations up to 14 days of quarantine, at a rate of up to $500 per day. Please refer to travel.gov.bs for details.
Going Off-Grounds
In order to minimize the risk of contracting and spreading the virus, we require that all guests and visitors refrain from going off-grounds (to Nassau, Atlantis, etc.) during their stay.
Failure to Comply with Health and Safety Standards
The Ashram reserves the right to ask guests not adhering to the safety protocols to leave the ashram.
Accommodations
All accommodations are single occupancy unless coming with a friend or family member. Our tent huts will be spaced farther apart than normal to allow for distancing of 6+ feet. Guest rooms are fully disinfected and ventilated between guest stays.
Sanitization
We have implemented an enhanced cleaning protocol, paying close attention to high-touch surfaces in common areas and public washrooms. Hand sanitizing stations are available in visible traffic areas throughout the ashram.
Day Visitors & Drop-Ins 
In the interest of maintaining safety and limiting the number of people onsite at a given time, the Ashram is not yet open for day guests and drop-in yoga classes, meals, workshops, or satsangs. We will evaluate this often throughout the season and will be happy to welcome back our day guests when it is safe to do so.
Taking the Boat
To maintain proper distancing, our boat will operate at a reduced capacity. Masks must be worn on the boat at all times. Please sanitize your hands at the available sanitizing station before you get on the boat and again when disembarking.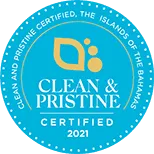 Sivananda Ashram Yoga Retreat Bahamas has received the Bahamas Ministry of Tourism's "Clean and Pristine" Health and Safety Certification
In preparation for our re-opening, we have implemented all safety measures required by the Bahamian Government for Sanitation and Hygiene. 'Clean & Pristine' is a certification program introduced by the Bahamian government and implemented across hotels, restaurants and other tourism touchpoints. The program outlines extensive health and safety protocols that will be enforced throughout The Bahamas to mitigate risks for visitors and residents alike during this time of COVID-19. Some of the measures we have implemented that will protect our guests and staff are outlined below:
PERSONAL PROTECTIVE EQUIPMENT
Face masks/coverings are required for all guests and staff when moving around the property.
TEMPERATURE CHECKS
Every staff member will have his or her temperature checked at the beginning of each shift to ensure no one with symptoms comes on property. Guests may be required to have their temperature checked at various times as well.  Any person who has a temperature of over 100 degrees will be required to self-quarantine.
SOCIAL DISTANCING
Social distancing measures to be followed at all times including dining, satsang, yoga classes, the beach. Seating will be spaced safely apart according to recommended guidelines. Staff will refrain from handshakes, hugs, or physical contact with guests.
SANITIZATION
We've stepped up routine cleaning, paying close attention to high-touch surfaces in common areas. Guest rooms will be thoroughly cleaned and disinfected after each checkout. Hand sanitizing stations are available in visible traffic areas throughout the ashram.
TRAINING
All staff will receive training regarding symptoms, personal protective equipment, physical distancing, and sanitization standards.
DINING
Kitchen will be deep-cleaned after each shift. Regular cleaning and sanitation protocols in place. Guests are required to observe social distancing while dining.
RETAIL/FRONT DESK
Guest payments, check-in and checkout are done online eliminating the need for exchange upon arrival.