Have You Seen God? If Yes, When and Where? With Form or Without Form?
Question: Have you seen God? If yes, when and where? With form or without form?
Answer: We learn in yoga that guru is God. So yes, I've seen God, who in the form of my own guru taught me that God is within. He taught me that if I want to find God, I have to meditate, that within meditation I'm going to find God, which is no different from my own Self. It's your Self as well, because God is the Self of all. This is how Swami Vishnudevananda taught me. He taught me to meditate and to find God within. Therefore I've been meditating for many years, and according to Swamiji's guidance, on the Atman, on the Self, which he taught me is none other than God. That one Self, our innermost being, is the Self of all, so we all have direct access to divinity. Swami Sivananda says divinity is closer to us than our jugular vein, which is true. Divinity is pure consciousness itself, sitting within our heart.
Allow me to return the question: Have you seen God? Swamiji would say not only have you seen God, you are God. In what manner are you God? You are pure consciousness itself, as am I. From this point of view, internally I have meditated on my innermost reality, which is none other than pure consciousness, and which my guru taught me is none other than God, and externally, I have seen God in the form of my own guru. He also taught me that whatever I see externally is nothing but God, that it is all God in manifestation. We learn this also in Vedanta that it is the one God that assumes all these names and forms, but we don't recognize it. Swamiji taught us to see God in our fellow beings because what we see is God.
Sometimes in deep meditation you can see something like fireworks, but we also can see God in an ordinary way, which is actually more important than to see God in an extraordinary way. This is how my guru taught me, and this is how I was taught to practice. So, have I seen God? Yes, as much as any other person. Right now you are seeing God, and if you close your eyes and you feel your innermost being, which is pure consciousness, you are experiencing God. If you meditate long enough and deeply enough, this experience will become deeper and deeper. It's nothing unique to me; it's something common to all of us. We are all God.
When practicing padmasana, the lotus, does the left leg go over the right leg or the right leg over the left?
Answer: In padmasana there are two variations, either one of which is good for beginners. In advanced hatha yoga, there are certain practices where the instruction is to first bend the left leg and to put the right foot over the left thigh and so on. And then there are other practices where you are taught the other variation; it depends which practices you are doing. For certain types of pranayama, we will use a certain type of padmasana; for other types of pranayama, another type of padmasana, and so on.
In meditation, generally speaking, the indication is that the right foot should be on top of the left one -- first of all you would bend the left leg, and then the right one. But there may be variations because the main thing is not what comes first, but whether you are comfortable in the asana. Are both knees on the floor? Is your seat -- asana means seat -- steady? Are your spine, neck, and head straight and aligned? Are your hands in a mudra? Is your body relaxed? Is your mind calm? How long can you sit in this asana without moving, being fully relaxed? For most of us, right over left or left over right is secondary.
---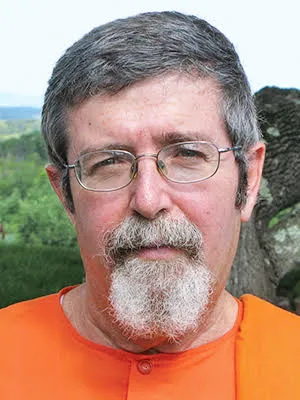 Swami Swaroopananda is a senior disciple of Swami Vishnudevananda. A practicing yogi from a very young age, Swami Swaroopananda has dedicated his life to the practice and teaching of yoga. He taught in Yoga Teacher Training Courses around the world and is currently teaching advanced yoga philosophy courses and lectures internationally. He is Director of the Sivananda Ashram Yoga Retreat and acharya (spiritual director) for the Sivananda centers and ashrams in the Bahamas and the Middle East. He is a member of the Board of Directors of the International Sivananda Yoga Vedanta Centres.